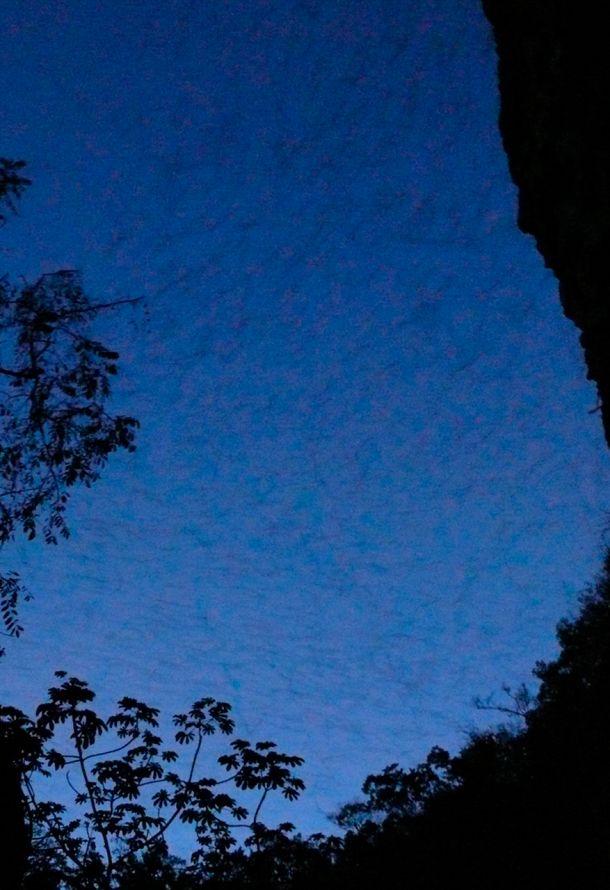 El Zotz - Tikal 3 days
Along the 50 km of trails you will enjoy both the culture and nature in the same way it was experienced when explorers discovered this sleeping jungle cities. In Mayan, Zotz means "bats". This is a different way to discover Tikal.
El Zotz was discovered in 1978, its structures and architecture has many similarities with Tikal, belonging to the dynasty Pa 'Chan. Stela 1 of Bejucal (7 km northeast), refers to a ruler who is identified with the glyph of El Zotz and this chronologically related to Siyaj K'ak '(Smoking Frog), a character that the year 378 AD, directed from Teotihuacan the change of power of Tikal. The trek finish back of Temple IV of Tikal, previously passing through a small place called Chiquin Tikal. The landscape is composed of mountains and low flood inhabited howler monkeys and over 300 species of birds, deer, tapirs and jaguars still live in this valley.
Description
Tour Description

Highlights:

The refuge of bats, following the steps of Siyaj K'ak'
Bat wall in San Miguel La Palotada - El Zotz Biotope.
El Zotz, El Palmar, Chiquin Tikal.
Getting to Tikal, through the Mayan Jungle.

Starting at Flores:

We will meet you at the airport Mundo Maya or any hotel at Flores, El Remate or Tikal.

Private transfer to Cruce Dos Aguadas village 1.5hrs dirt road.

Time to departure: 7:00am (If you are already at Flores).

Package Includes:

Transportation: Private transfer to 62 km –Cruce Dos Aguadas village (trek starting point) and shared transfer to Flores.
Meals: 7 Full meals for the entire trek (2 Breakfast, 3 Lunch 2 Dinner) + snacks (we will deliver first day)
Refill of purified water each day.
Mules to carry (camping equipment: client tents, backpack, stove, cutlery, plates, food and fresh vegetables, etc. only Yesal camp).
Guide: Community guide (Spanish speak)
1 Jungle cook,
Muleteers for every 6 mules.
Camping: camping gear, comfortable sleeping mattress, (Pillows by request)
2 people per tent clean, or single.
Water for washing every day.
Happy hour with tea or coffee every afternoon on camp.
Biodegradable soap and hand cleansing gel.
Emergency First-aid kit. (guide)
Lunch at Tikal.

Does not Includes:

Tips for guide, cook, muleteers and driver.
Flight Ticket to Flores.
Accommodation in Flores or Tikal.
Travel Insurance. (Check that your insurance covers you for trekking and consider joining a local emergency.

Upgrade your trail to El Zotz Tikal Trek

1 night at Tikal: add extra night at Tikal, relaxing time. "Our recommendation".
Tikal Sunrise tour: Early in the morning 4:00am leave to temple IV, there until see the sunrise in the canopy of forest.
English guide in the trek US$300 extra charge.
Flight from Guate City and Belize: We are wholesalers of the flights to Tikal, you can book with us, the best price guaranteed.
Booking hotels: Please check our accommodations section and you can choose the hotel that you like.

Itinerary

Day 1– Flores – Cruce Dos Aguadas – El Zotz

L

D

Departure at 7:00 am from Flores by 4WD pick-up trucks or mini-bus for larger groups to the Community of Cruce Dos Aguadas 1.5hrs. Meet up with your local guide; all gear will be packed on mules for the trip and off we go! To El Zotz 25km.

09:30 am – Trek departure.
01:00 pm – Box-Lunch on the way.
02:00 pm – Continue to El Zotz.
04:00 pm – Arrival El Zotz Camp. Time to explore the site.
06:00 pm – Sunset view from the highest hill-top and then you may get to know the Zotz house, a refuge for thousands of the bats that every afternoon provide and astonishing show.

Overnight – Camping at El Zotz.

Day 2, El Zotz – El Yesal

Jungle morning wake up call. Today we explore the site El Zotz discovered in 1978, the epigraphic text indicate that during the VII century, El Zotz had been integrated to the powerful Kan Kingdom, keeping relations with Calakmul and El Peru-Waka, becoming one of the closest enemies' stronghold to attack Tikal.

The actual site El Zotz where only few structures have been excavated, the most important is the hill of Devil (El Cerro del Diablo) is formed by 21 structures and the main complex is known as the palace. When you climbing the Devil's Pyramid you can see over the canopy and spot the summit of the temples of Tikal. Then visit the temple of the night sun, decorated by at least 14 figure heads that show different versions of the sun deity.

1:00 pm – Leave el Zotz camp. Jungle trail 12 km approx. to the next camp.
04:30 pm - Approx. Arrival time. At el Yesal camp.

Overnight – Camping at El Yesal, inside Tikal National Park.

Day 3 El Yesal - Tikal

Breakfast in the camp. Guests break camp and head for the final leg of our journey toward Tikal National Park, 4.5hrs. Approx. through rolling terrain covered by tall a thousand years old primary forest.

Note: Pack horses are not allowed in the park, so passengers have to walk and carry their own packs during trail to Tikal.
07:00 am – Departure to Tikal, jungle trail 14km approx. 10:30 pm – Snacks on the way. 13:00 pm – Lunch will be done at a restaurant at Tikal National Park. 14:00 pm – Free time at Tikal 16:30 pm – Return to Flores, or add one night at Tikal. End of expedition!

B Breakfast, L Lunch, D Dinner.

FAQ´S
Goes Great with